Comedy Clubs
We're proud to work alongside stand-up comedy events company Nodding Dog Comedy. They host and promote some of the best stand-up comedy shows across the North West in Manchester, Cheshire, Cumbria and Lancashire.
Nodding Dog Comedy is our sister stand-up comedy events company. Together we host and promote stand-up comedy shows across the North West and beyond.
With venues ranging from city centre clubs to pubs, sports clubs, breweries, theatres, churches, outdoor events, comedy festivals and more… Nodding Dog have a comedy show for you!
With a reputation for booking the biggest and best comedians in the UK, along with the brightest rising stars, when it comes to the funny Nodding Dog gets tongues (and tails) wagging.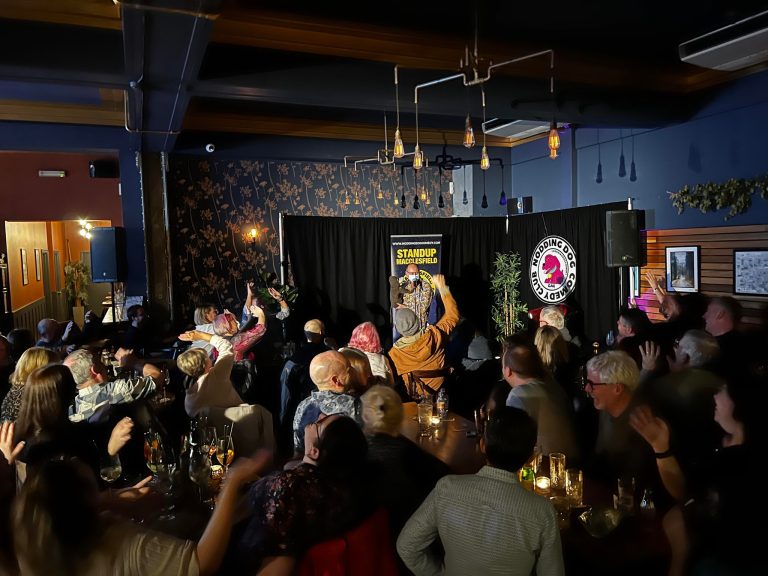 Book a Nodding Dog Comedy Event
If you have a venue and want to host or run your own stand-up comedy events contact Nodding Dog Comedy today. They can help you with our hire a comedian service, one off shows for special events, tour shows, regular scheduled club nights, fundraisers, corporate events, festivals and much more. Plus, they are always more than happy to offer free guidance and advice to help you create the most memorable of events.
For a full guide on Nodding Dog Comedy and our stand-up comedy event services give Kev a call, email or fill in the form on their website here.