John Robertson
The Dark Room
Welcome to THE DARK ROOM – the world's only live-action videogame. It's strange, insane and addictive – it's a choose-your-own-adventure, so choose it!
How do you play? The audience is trapped in a retro videogame with a sadistic end-of-level boss. Choose your options, survive the abuse simulator that is the improv comedy overlord John Robertson, and escape to win £1000 – or, be brutally murdered by the rest of the crowd!
Now, will you:
A. Find the Light Switch
B. Go North?
C. Abandon Hope?
Now in its 11th year, this high-octane interactive show is the brainchild of comedian & cult leader John Robertson. Filled with stand-up, appalling prizes and more audience chanting than you'd get at a protest – it's a gut-busting rock n' roll geek experience for everyone who buys a ticket.
John has performed The Dark Room to crowds of thousands at comedy, fringe, rock and gaming festivals, and to hundreds in theatres and arts centres around the world. These include Insomnia Gaming Festival, London Film & ComicCon, Sci-Fi Weekender, Edinburgh Fringe Festival, FringeWorld Perth, Leeds International Festival, Sheffield Doc/Fest, PAX Australia, EGX London, 21Soho, headlined the comedy stage at BlueDot Festival and multiple residences at Frog & Bucket Manchester and Soho Theatre. And of course, to millions of fans online on his Twitch Partner channel: www.twitch.tv/robbotron
star
star
star
star
star
"You must see this show"
star
star
star
star
star
"Something of a masterpiece"
"What a marvellous, maddening concept this is from the twisted mind of Robertson."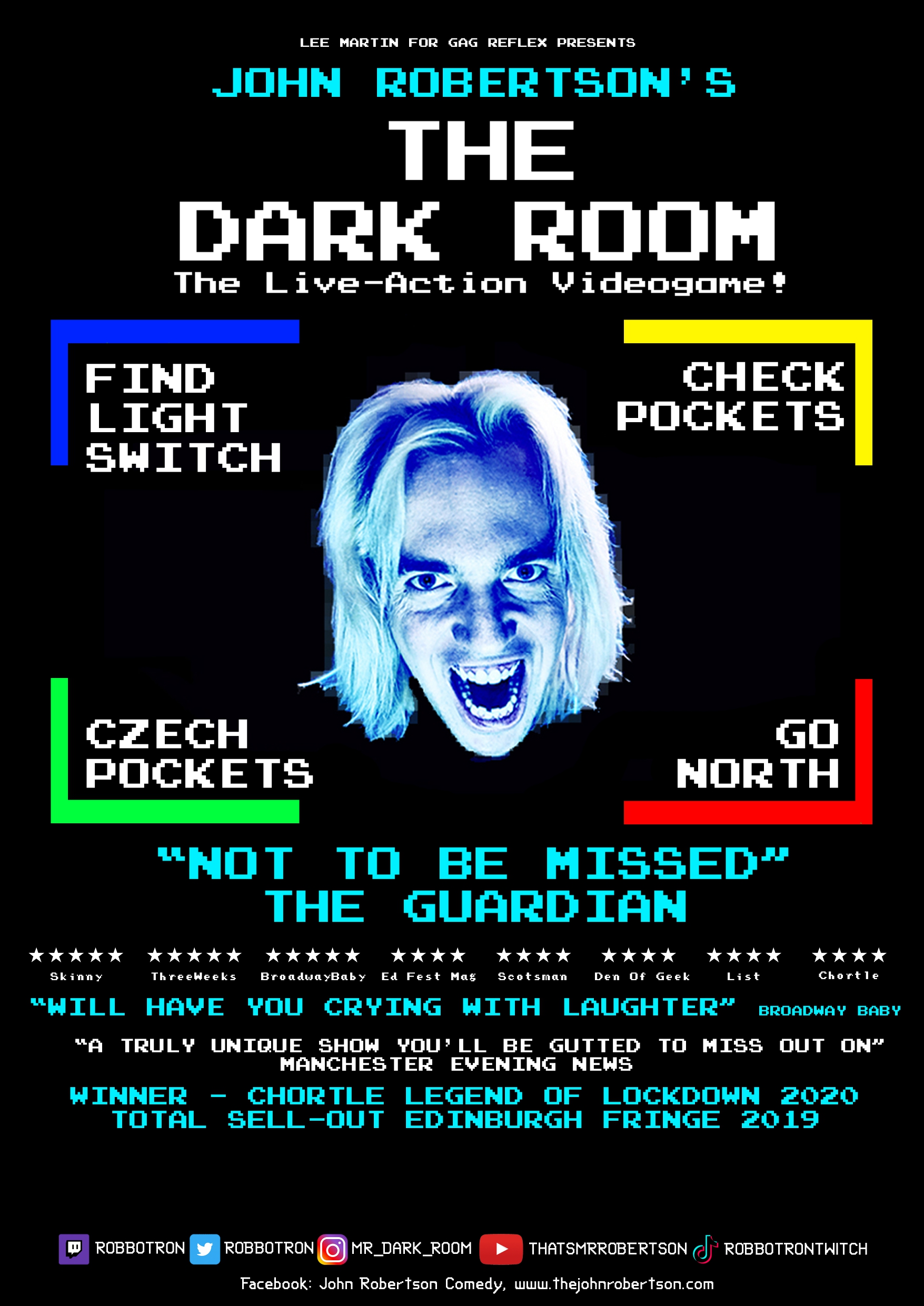 Tour dates